Powerful platform for contemporary art and culture
Art Thessaloniki 

International contemporary art fair: 11/03. - 06/2022

El Greco prize for Ilya & Emilia Kabakov
With its innovative concept of an event as an art fair for galleries, independent artists and museum exhibitions, Art Thessaloniki has again been able to attract the attention of well over twenty thousand visitors for the sixth time. The fair once again clearly shows the connection between art, culture and society. This became particularly clear with the awarding of the El Greco prize to the Ukrainian-American artist couple Ilya and Emilia Kabakov for their life's work. On the occasion of the Russian war, this award ceremony also has an important political dimension in connection with the exhibition Dreams and Reality in cooperation with OSTEN museum. Skopje.
Here you will find TV reports on the event part 1 and part 2.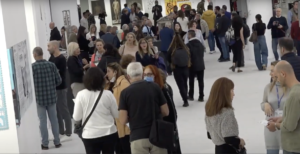 Other museum exhibitions during the fair were dedicated to the artist of the century, sculptor George Zongopoulos (in association with the Zongopoulos Foundation, Athens) and the artist Konstantinos Xenakis (in association with the Xenakis Museum, Serres). His work of the latter often includes written script, in particular the Hebrew alphabet, symbols and codes of everyday life, traffic signs, alchemy, the zodiac, mathematical and chemical symbols, Egyptian hieroglyphics, letters from the Greek, Phoenician and Arabic alphabets. In their own way, all three honoured artists promoted peaceful coexistence.

---
Independent artists fair
This year, the 6th edition of Art-Thessaloniki International Fair (3-6 November 2022) invites young and independent artists to participate in 2x3x2m and 3m high stands, with the aim of promoting them artistically.
Despite the constraints we had during the pandemic period, the 2021 exhibitors, November 25-28, enjoyed an active four-day exhibition with sales and great interest from art historians, collectors and the media.
MATAROA awards
For the 3rd time, the Art-Thessaloniki International Contemporary Art Fair and the Cultural Society of Entrepreneurs of Northern Greece (PEEVE) organized the MATAROA AWARDS for young artists under 33 years old.
Winter Stiftung | Winter Foundation is cultural partner of Art Thessaloniki
LS/-
November 03 - 06, 2022
Art Thessaloniki, Greece
Art director: Pantelis Tsatsis
International Exhibition
TIF HelExpo-Center
154 Egnatia Street
546 36 THESSALONIKI