Virtual exhibition on KunststückebyDettmer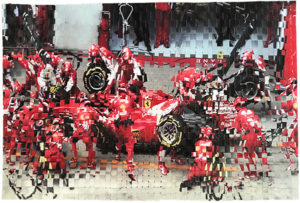 The art salon KunstStücke by Dettmer in Cologne presents a virtual exhibition with works by Monika von Eschenbach.
The online exhibition invites to discover the artist's sculptural photo art. Fascinated works like box stop in Monaco, female view on woman bodies, new view on famous cologne cathedral architecture, Berliner Bogen by Teherani or railway station Frankfurt will challenge the way of seeing.
The virtual exhibition will also be a appetizer for her exhibition Fata Morgana, which is expected to take place at the beginning of 2021 (depending on Covid-19) - and which will present innovative art positions together with a wonderful work show by the painter Jana Dettmer.
Winter Foundation has been associated with Monika von Eschenbach for years, and the artist herself has also supported the foundation's goals by donating masterpieces of contemporary art.
Monika von Eschenbach, b. 1965 in Eschenbach ί. d. Opf., Bavaria, is a German visual artist and architect. As a traveler who explores the world again and again, she has rediscovered her ties to home. This opens up for her new paths in art. After studying architecture, she lived and worked i.a. in San Francisco, Alaska, Basel and at last she settled down in Cologne in 1993. Even while studying architecture, she dealt with free photography and sculptural work. She worked as well as assistant for multimedia artist Michael Jansen, conceptual photo artist Heinz-Günter Mebusch and object maker and photo artist Vera Isler-Leiner.
Link to the virtual exhibition