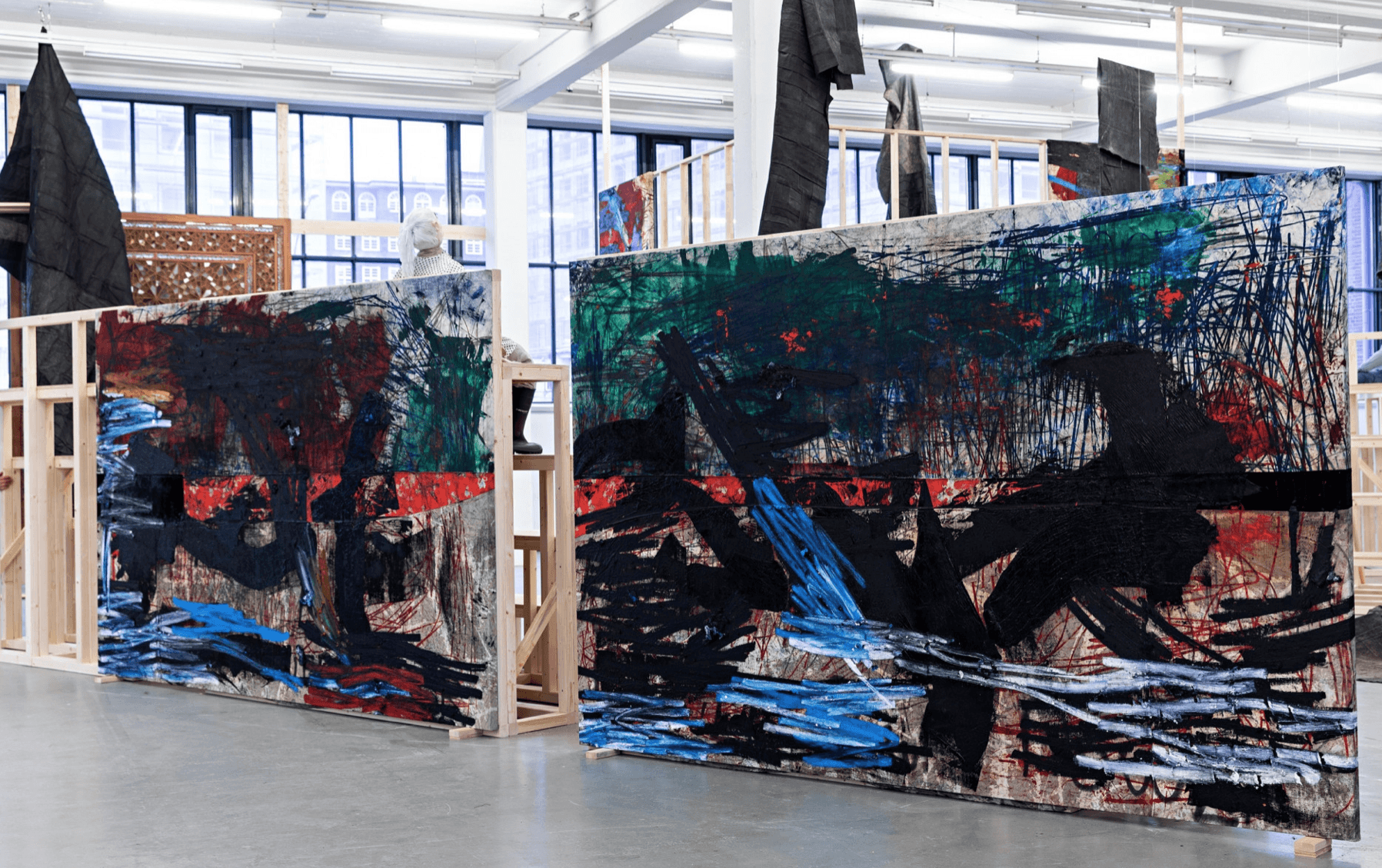 OSCAR MURILLO IN THE KUNSTVEREIN HAMBURG
The Colombian artist Oscar Murillo (* 1986 in La Paíla) is dealing in his exhibition at the Kunstverein Hamburg with the subject of precarious work and the importance of understanding solidarity. Primarily a painter and interested in aesthetic discourse - he is going beyond this framework. He has installed within the large hall of the Kunstverein an agora where he try to express his unbroken belief in geographic, cultural and socio-political cohesion. In Horizontal Darkness in Search of Solidarity large canvases from the manifestation series sewn together from various pieces with the effigies (portraits) and stuffed dolls that symbolize the ordinary people from from his hometown La Paíla. Various grandstands, which are also used as part of the accompanying program, are inviting visitors to sit down and watch and perceive the Agora as a place of debate. In addition to canvas works and drawings, the exhibition also shows several video works by Murillo that examine the subject of mobility and the eternal state of change. The windows, which he had made by craftsmen from Azerbaijan using the technic of traditional stained glass technology, consist of rusted sheet metal from run-down factories and symbolize the globalization scrap of our time. The various materials and processes illuminate the topic of physical work and question the importance of migration, community, exchange and trade in today's globalized world.
09.11.2019 - 26.01.2020, Kunstverein Hamburg.
Over the weekend of January 24th and 25th, 2020 there will be a program of artistic feedback on the exhibition. In Search of Maintained Solidarity: A Frame for the No Longer Visible is a program consisting of lectures, discussions, performances and musical and poetic contributions.