Digital sculptures
Interact with digital works of art in real time using your own smartphone or tablet.
The world's first Augmented Reality Biennial will open on August 22, 2021 in Düsseldorf (with satellite projects in Cologne and Essen). With the help of the "AR Biennale" app, street signs can be scanned. The NRW-Forum in Düsseldorf gives with this unique project AR art a prominent platform. From now on, every two years the AR-Biennial will be created in the open air as a new type of digital sculpture park. With the help of an app, visitors explore digital works of art that are inserted into the real environment and become visible on the mobil or tablet.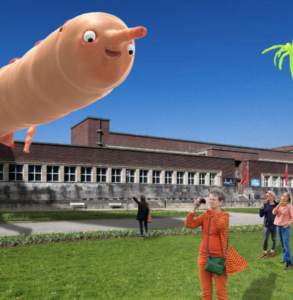 20 international artists take part:
Studio Above & Below
Jeremy Bailey
Banz & Bowinkel
Gabriel Barcia-Colombo (Cologne, Heinrich-Böll-Platz)
Cibelle Cavalli Bastos (Cologne, Ebertplatz)
Tim Berresheim
German Opera on the Rhine, Düsseldorf
Lucie Freynhagen
Shawné Michaelain Holloway
Keiken
Lauren Lee McCarthy
David Lobser (Essen, Burgplatz)
Andy Picci
Damjansky
Sarah Rothberg
Manuel Rossner
MengXuan Sun (Essen, Hans-Toussaint-Platz)
Theo Triantafyllidis
Lola Zoido
The signs on site are read in using the app's scan function and as soon as the camera has captured the sign, the AR factory appears on the display. For many works you can activate additional surprises by tapping on them. In addition, some works also have sound. Please activate the audio on the mobile phone.
Opening hours
You can call up the work in Düsseldorf, Cologne and Essen at any time with your device and the app. Please note that the app only works in daylight.