Jana Dettmer is an interesting woman who, as a mother, lawyer and artist, has managed to convey a special view of the world.
As an artist, she complements the well-known spectrum the monochrome with new facets. She deals in particular with the aesthetic, psychological and philosophical meaning of colours. So, each painting becomes an experiment, to show what pure painting is capable today: visual poetry that can be experienced.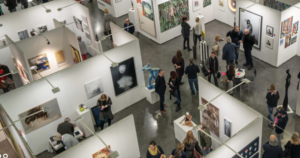 Colour is the dominant theme of her painting and colour is the origin of the painting, it is the real one image carrier. Monochrome paintings occupy a special place inside her work. She uses also an epoxy Resin system, creating flawlessly flat, reflective surfaces, with the painting underneath. The process of painting itself started with several layers of colours, and the surface by special resin process enables a way to for the viewer to come closer to the ideas and feelings of the artist. The more intensely sb. deals with one of these paintings, the stronger the existing inner dimensions become noticeable.
With such paintings, she also enables to be given new tension to a room. Looking her works of art, it will notice a virtuoso surface design that is of immaculate purity. People who want to see her paintings or which come just in close contact, experience additional reflection as an independent engagement with whatever moves them.
Jana Dettmer (D), lives and works as a visual artist in Cologne and South France.
Works by the artist can be discovered on the:
Dicovery Artfair Frankfurt a.M., November 4th. - 7.11.2021
Artfair Brussels, November 26th - November 28th, 2021
Exhibition Galerie Böhner, Mannheim, October 22nd, 2021 - March 10th, 2022