Dialogue of photography and painting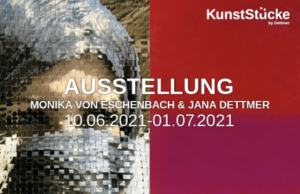 The exhibition FATA MORGANA at art scene salon KunstStücke by Dettmer (art projects, Cologne/Germany, presents works by the artists Monika von Eschenbach and Jana Dettmer as an dialogue of photography and painting. Both are professional artists and successful as well as architect (Eschenbach) respective as lawyer (Dettmer). Fata Morgana generally means a phenomenon of reflection, which is suitable to deceive our senses with illusions. It touches the delicate line between reality and imagination. Under this onomatopoeic term, the two artists have come together to relate their works from different artistic positions
Jana Dettmer is dealing with the longing and search for meaning for the unknown in us and the inner essence of matter. She sees a great opportunity to tackle this quest in exploring colour. For her, colour is not only a means of creation, but as a discovery of the previously invisible. Accordingly, her works are almost entirely characterized by the minimalism of pure colour and their almost infinite mixing ratios. Her approach to dealing with colours takes into account both aesthetic and scientific aspects and their psychological effects on people.
As an artist, Monika von Eschenbach has been treading new paths in the field of photography and the three-dimensional border crossing for decades. The possibility of thinking at all and being able to be artistically active in any case presupposes a space that is kept free from norms and forms the basic prerequisite for the origin of innovations. This space is limitless and can initially be located in mind. The task of art is to transfer new thinking in learned - that means in old - forms and then to redesign them independently. Exceeding dimensions create an irritating game of perception for the viewer, as the human eye always wants to focus.
KunstStücke by Dettmer | art projects
15, Stammheimer Straße
50735 Cologne
Vernissage: June 10th, 2021, 6:00 p.m. - 10:00 p.m.
Exhibition: June 10th, 2021 - July 1st, 2021
Due to the currently applicable Corona protective measures, a visit to the exhibition is only possible with prior registration by email to: contact (at) janadettmer.com, for the vernissage please specify a desired time slot between 6:00 p.m. and 9:30 p.m.
An exhibition catalogue (German texts) is published in collaboration with Dettmer art projects, Artforum Culture Foundation and Winter Foundation
at ArtForum Editions:
Jana Dettmer. Abstract colourfield painting. The art of liberation. | Monika von Eschenbach. Fata Morgan. About grasping reality.
Edited by Peter Merten, 2021
The catalogue is available during the exhibition or can also be purchased online on request.