Shaping the present and the future
The future is catching up with us. Developments that can be described as apocalyptic have leveled off in a little more than a year in rare dimensions and severity: a dangerous viral disease as a pandemic, heat waves and fires worldwide, heavy rain and tidal waves. Political and economic upheavals also appear as disturbing accompanying music.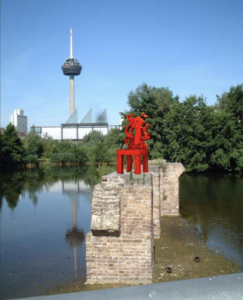 Under such circumstances, shaping the future is not so easy. New thinking is required, but it is also certain that the future cannot be shaped without lessons from the past. Life in all its diversity is complex and that is precisely why we have to formulate our goals in order to avoid further mistakes and to recognize and use opportunities.
The art project Reconciliation of Values (Versöhnung der Werte) ​​would like to contribute with a public discussion to combine the culture of remembrance and the shaping of the future.
Heinz Zolper created drafts for the project to promote these topics. The project explicitly opposes a culture of forgetting and ignoring knowledge. With the help of art, a public discussion about the dimension of society, growing together and shaping of the future is to be initiated in order to counteract an isolated view. This requires, on the one hand, a deep participation of the people themselves and, on the other hand, honest support from the public sector. The project with all those involved is committed to the goal: Dare to be more democratic.
Everyone wants to shape life according to their own ideas. In order to enforce this with different interests, rules are needed. Security and power are basic conditions for developing individually and standing out as something special. But a balance of power is also required, because all life strives for harmony. This gives rise to man's great responsibility to use life for good.
The "Reconciliation of Values" project wants to push the big questions of the present into the center of society without being restricted by what can be politically, economically and socially enforceable. Since art in public space is more than just a aesthetic jewelry, because it stimulates creativity and offers the opportunity to discuss different values, there is hope for a social response without playing down its original concern.
The manifesto was published as an art book in an open and limited edition by ArtForum Editions: Remember the Future | Heinz Zolper. Public sculptures. Sketches, 2021.
The book is available for 45 EUR (open edition) or 140 EUR (for the limited edition), plus shipping
- directly via the project office of "Reconciliation of Values"
- Artforum Culture Foundation
- or through art bookstores and galleries.