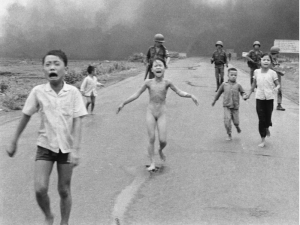 Few people know her name,
but almost everyone knows her picture.
A little child burned by napalm, running naked and screaming across a Vietnamese street. Since then, today's 55-year-old Kim Phuc Phan Thi is the "girl in the photo" or "The Napalm Girl". She is engaged as a Goodwill Ambassador of UNESCO, founded a foundation for war-tainted children and speaks to thousands of people every year. And if you listen to her when she, who still suffers from the napalm attack of that day, is speaking about reconciliation, It is an admonishing example of denying any hate. A testimony of absolutely human greatness, especially in times of increasing hate and inhumanity
Kim Phuc Phan Thi, the so-called "Napalm girl", will be honoured with the 10th International Peace Prize "Dresden Prize" in the Dresden Semper Opera.
The award ceremony is a joint event of the organization Friends of Dresden Germany e.V. and the Semperoper Dresden.
Date: February 11, 2019 at the Semperoper Dresden
Music: Mike Yung (USA) - for 37 years he sang in the New York subway until he became famous discovered two years ago.
Moderation: Jakob Augstein, Hamburg (journalist and publisher)
Tickets for the price of 10 euros (students / students reduced 5 euros) are available at the visitor service of the Semperoper or via order@semperoper.de